YWAM's global prayer day, called The Invitation, will be a bit different in October. Instead of asking you to pray on the second Thursday of the month (or whatever works best for you) we are asking you to pray with us daily from October 8 to October 22 for 15 Days of Prayer for the Hindu World.
15 Days is an annual prayer movement that calls Christians and churches worldwide to take these 15 days to learn about and pray for our world's one billion Hindus. This period encompasses the significant Hindu Festival of Lights called Diwali (or Deepawali). During this prayer focus, we invite you to take a posture of blessing toward Hindu peoples worldwide.
Please join with YWAM's global prayer day, called The Invitation, during the month of October to pray for the Hindu world, from October 8 – 22. Informative prayer guide booklets are available on the 15 Days website (www.pray15days.org). To join us in prayer in October, take a moment to download or order a booklet. Also, go to the 15 Days Facebook page (via pray15days.org) and like it. The purpose of 15 Days is to call Christians to make an intentional and respectful effort during this period to learn about, pray for and reach out to the Hindu community.
If you are not able to pray every day we invite you to pray during our prayer day, Thursday, October 12.
This is the second anniversary issue of The Invitation and we would like to take a moment to thank the people that have made this possible:
Translation: Yohan An, Seungjun Bahng, Kyoungmi Ko, Eunice Jo, Micaela Oliveira, Jessica Milanez Salve, Adelaide Santos, Isabela Ribeiro, Sharen Song, Renato Wong, French-language translator (name withheld for security reasons), and Yira Patricia Ibarra.
Spiritual Formation/Prepare to Pray: Miranda Heathcote, Tanya Lyons
Social Media: Daniel Norris, Mandy Stephenson, Jeremy Randall
Logistics and Podcast: Bill Hutchison
Manager and Writer: Laura Parli
Ideas: Lynn Green, Lynn Yee
Leadership: Bryan Bishop
Thanks also to YWAM leaders, prayer coordinators and others who have organized The Invitation at their location.
If you have only a few minutes to pray this month, please pray that Hindu people everywhere would be blessed through the Gospel and that God would move them towards Himself.
If you are praying with a group or if you have more time to pray, please see below for the complete list of prayer suggestions.
Prepare to Pray:
Speaking blessings over people and situations, and doing so in our authority as God's children, is a powerful way of agreeing with His good purposes. Blessing prayer helps us to align our hearts with God's good intentions and, as we see in scripture, blessings given by God and His people are powerful and effective.
As your group prepares to pray, stand together in a circle. You can divide into smaller groups if you are praying as a large community, or you can pray individually if you are alone. Take a moment to consider the Hindu World and God's eternal purpose to reveal His love as Father, Son and Holy Spirit and to draw people into relationship with Himself.
When you are ready, go ahead and open in prayer: "Almighty God, as we stand in agreement with your loving purposes towards all people, help us by your Holy Spirit to speak powerful blessings over the Hindu world that will bear good fruit."
Then go around the circle and allow a brief moment for each person to speak aloud a blessing; these can be very simple. It may help to imagine a particular man, woman, child or family and their need for Jesus. For example, someone might begin with, "I bless Hindu families with visitors who will speak to them of Jesus." Or, "I bless Hindu communities with portions of scripture they can read aloud together in their language."
When everyone has taken a turn, pause a moment in silence. Before continuing with your prayer time, allow your hearts to be softened and enlarged with a sense of God's deep longing to bless Hindu people.
Pray for The Hindu World:
Pray that more disciples of Jesus would learn how to communicate the Good News to Hindus in ways that resonate with their hearts and minds.
Pray for bible translation and distribution in the Hindu world and the ending of bible poverty. Many Hindus do not have Scripture available in their language or do not have access to the Bible. Peter said to Jesus, "Lord, to whom shall we go? You have the words of eternal life, and we have believed and have come to know you are the Holy One of God" (ESV, John 6:68).
Pray that movements of Hindus towards Christ will emerge and grow in all types of Hindu communities.
Pray for the more than 2,000 YWAM staff who work in South Asia. Many of them work directly with Hindu peoples.
"Through prayer, we engage in an act of love for Hindu people around the world—sharing their burdens, understanding their concerns and petitioning God to reveal Himself to them."

Friends Network
Praise God for the many people movements that have started amongst Hindu people.
Pray for the church in South Asia, that it will endure the recent increase in persecution and grow in hope, as the author of Hebrews wrote, ". . . . hold fast to the hope set before us. We have this as a sure and steadfast anchor of the soul, a hope that enters into the inner place behind the curtain, where Jesus has gone . . . " (ESV, Hebrews 6:18 – 20).
Pray for the 2,328 Unreached Hindu People groups (https://joshuaproject.net/religions/5) and that they will receive witnesses of Christ and turn to Him as their saviour.
Take Action:
Look for Hindus in your own community and find ways to engage with them. Eat a meal at an Indian or Nepali restaurant and get to know the wait staff.
Attend a YWAM Frontier Missions school or seminar (uofn.edu) or (ywamfm.com) to search for DTSes and secondary schools with a focus on the Hindu world.
Visit the International YWAM Frontier Missions website and Facebook (you can find both via ywamfm.com) to learn how to be trained and sent as a cross cultural missionary to the Hindu world.
Visit the YWAM Frontier Missions South Asia website and Facebook page to hear encouraging testimonies of what God is doing amongst Hindu peoples there and to learn about training and ministry opportunities (you can find both via www.ywamfrontiermissions.com).
Bring yourself and your team to the first Global Hethne (Hindu Ethne) Missions Congress in Thailand, October 12-17, 2020. Find more information at (hethne.org).
Consult the Joshua Project site that is dedicated to people groups of South Asia for prayer points (www.southasiapeoples.org).
Consult Operation World for more prayer points and to learn about Hindu peoples.
Read books to gain a greater understanding of Hindu peoples: Sharing Your Faith with a Hinduby Madasamy Thirumalai; Disciple Making Among Hindus by Timothy Shultz; Sundar Singh: Footprints Over the Mountains by Janet & Geoff Benge (YWAM Publishing) and Footprints of Faith: Stories of YWAM in South Asia by Sonya Svoboda.
Watch short promotional video from the 15 Days website (pray15days.org).
For additional information: prayercast.com see link to their video leading people through a prayer for Hindus (http://www.prayercast.com/hinduism.html).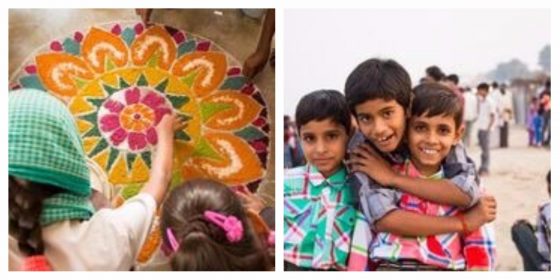 How We Prayed
September 2017 – DTS, Disciple-making
Friends Network – "The Invitation has been a great blessing to our mission, the Father's heart and I am sure for those whom we have prayed."
Several posted on Facebook that they prayed including one who prayed for the current DTS to be a blessing to many and that God would use all participants to bring revival and awakening of the Holy Spirt.
Future Topics:
November 9, 2017 Partner Churches
December 14, 2017 Pyongyang
Don't Miss The Invitation: